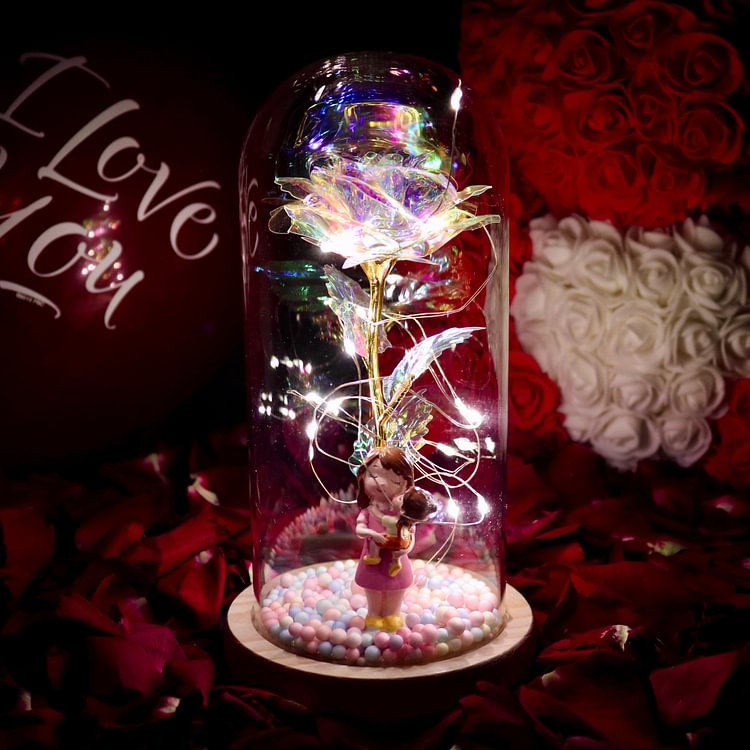 "A Mother's Love is Forever"
The never fade Enchanted Sparkly Rose represents Faith in Love Forever.
Great for home decor. Would look amazing anywhere you want. Great gift for, Mother's Day. Our Galaxy Enchanted Rose creates a comforting feeling in the house when spending time with your loved ones.
🤲 Hand Made with Love
✨ Filled with 20 LED fairy lights
🌹 Encased by a glass dome
🔆 Creates a warm, ambient light
😍 Features a charming base
❤️ Makes your mother smile
Unique Gift Idea!
Expressing your love for your mother uniquely and elegantly! To add to the beauty of a sparkling rose, the never-fade preservation dome represents all the efforts made between you and your mother to preserve the beauty of what you have together!
The Magical Rose 
✨
The magical glow of this iridescent rose won't cease to mesmerize the one you gift it to. What makes it even more special are the gorgeous fairy lights that surround it, filling the air with a soft glow when lit.
Frequently Asked Questions
Q- Does it come with batteries?
A- Unfortunately, We cannot ship with batteries. You will need to purchase 3x AAA batteries separately elsewhere.
Q- How long does the rose last?
A- This Rose is made to last a lifetime.
Q- Does it turn on & off by itself?
A- There is a manual switch at the bottom of the dome.
Q- Are the rose and the wooden base separate?
A- The glass dome cannot be separated as it is glued together to avoid accidentally breaking the glass or the rose.
Q- Does it come put together or is this a DIY?
A- It comes put together.
Q- Can I take out the rose?
A- The Dome is glued shut. it cannot be opened. if you are looking to get only the Sparkly Rose without the glass dome. PRESS HERE
Q- How long does the shipping take?
A- The shipping time to your country is displayed under the "ADD TO CART" button.  PRESS HERE for more shipping info.
Got a question?
Specifications
Material: Glass dome, Pine wood or plastic bottom, Flannelette Rose
Light Color: As in Pictures 
Switch: ON/OFF
Powered By: 3xAAA Battery (Not Included)
Normal Size:
 22x11.4cm/8.7x4.5inch